At CycleWales we have a fully operational workshop for the repair and servicing of ALL types of bikes. Whether it be a puncture or a complete service we have the experience to give you the peace of mind that all work is carried out by fully qualified technicians.
We also offer a custom bike build and wheel building service, plus frame repairs and modifications.
Workshop Charges
Bronze Service £40
Fork removed, headset cleaned and regreased. Inspected for movement and adjusted where necessary.
Bottom Bracket checked for movement and tightened where applicable.
Lubrication of chain, derailleurs and cables.
Adjustment of brakes and gears.
Hubs and rims checked for wear/damage.
Tyres inflated and inspected for wear/damage.
All fittings secured (racks, mudguards etc.)
Disk Brake rotors straightened where applicable
Silver Service £65
As Bronze plus…
Frame and forks wiped down and checked for alignment.
Wheels trued and any damaged or broken spokes replaced.
Drivetrain degreased including the removal and cleaning of the chain, cassette and chain set.
Gold Service £90
As Silver plus…
Bike stripped back to its bare frame
All bearing surfaces (hubs, headset and bottom bracket) cleaned and regreased.
All thread surfaces cleaned and then regreased or Loctite applied as applicable.
Re-assembly with all nuts and bolts torqued as applicable
*Cost of any parts or components not included in service price
Other Services
At our new workshop we have the facility to Mig and Tig mild steel, stainless and aluminium. We also offer a milling and lathe service. Through our in house CAD design we can offer through a partner company laser cutting of bespoke parts.
Custom Builds
Ever wished you could have a bike designed and built just for you?
We offer a custom build service, and work with you from the design and geometry of the frame, selection of components all the way up to the finished product. You can even come and build it with us.
Gallery
Latest Customer
My dream bike – Bernd Lahmeyer from Nowray
In spring 2018 I started planning my new bike. It should be a bike for everything: Commuting, short weekend tours and longer tours with tent and sleeping bag. It should be light, durable, easy to transport by train and plane and usable both on asphalt and gravel. The maximum tire width should be 50mm and the frame should fit both a conventional 2×11 gear shift system and an internal gearing like Rohloff, combined with a belt drive for low maintenance. I quickly settled on a titanium frame with S&S couplers and contacted a number of vendors in Europe and the US. I found that I either would have to compromise on my specs or that the bike would be far too expensive. A British colleague told me about Dewi. I contacted Dewi and it was quickly clear that with him I could build a bike, fulfilling all my wishes at a reasonable price. An additional advantage was that I could assemble the bike myself in Dewi's workshop in Llangefni under his supervision! In October all the parts had arrived and I travelled to Wales to build the bike, In Dewi's workshop I learned a lot, which is handy on long tours in areas with little support. I really enjoyed the three days in his workshop, the cycling on Anglesey in the evenings and finally the first trip with my new bike from Llangefni to Chester.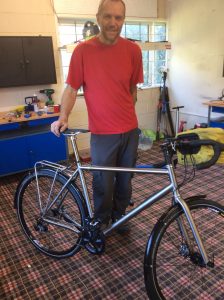 Enquiry Form